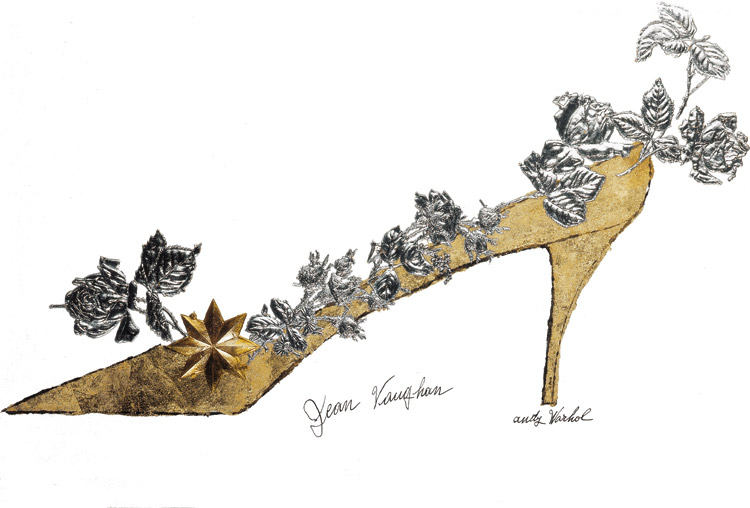 "Warhol, negli anni '50, durante la Sua carriera di grafico pubblicitario, realizzò tre raccolte di serigrafie con soggetto la scarpa, queste sono: Golden Shoes,  À la Recherche du Shoe Perdu e Diamond Dust Shoes. Il Suo intento era di innalzare un oggetto comune, come la scarpa, allo status di oggetto artistico. Per questo le scarpe rappresentate sono estremamente preziose, pregiate, dedicate alle più importanti celebrities dell'epoca (come nella raccolta Golden Shoes), accompagnate da versi storpiati ( À la Recherche du Shoe Perdu) oppure rappresentate ricoperte dalla polvere di diamanti (Diamond Dust Shoes).
| | |
| --- | --- |
| Andy Warhol, for Dione and Myron | Andy Warhol, Diamon Dust Shoes |
(…) Il portfolio intitolato À la Recherche du Shoe Perdu, contenente quindici immagini di scarpe femminili, destinato al negozio I. Miller di New York, venne anche esposto nel Caffè/Galleria Serendipiti ed ottenne molto successo. Il titolo fa riferimento al romanzo di Proust, À la Recherche du temps perdu, in modo disinvolto e quasi sfacciato denota la transizione di Warhol da artista commerciale ad artista di Galleria.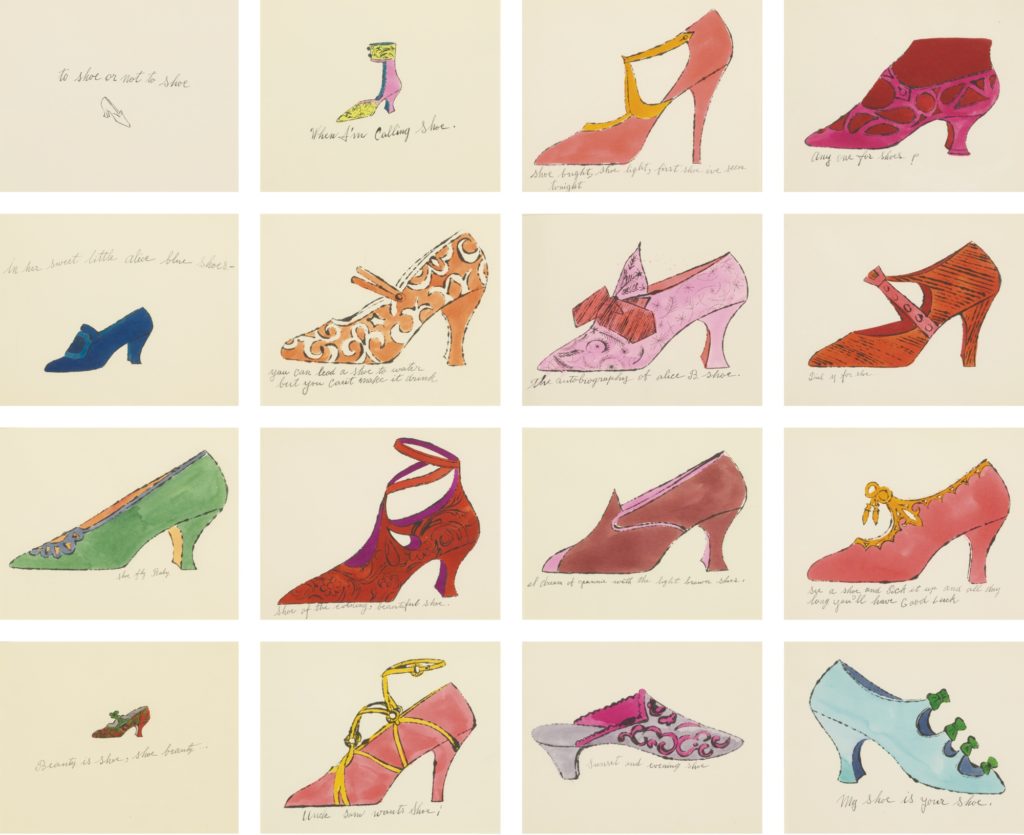 Le scarpe sono accompagnate da didascalie pensate dallo scrittore Ralph Pomeroy e scritte dalla madre Julia Warhola. Queste espressioni sono tratte da detti o poesie popolari, rivisitati trasformando la parola chiave in "shoe". Ad esempio, con TO SHOE OR NOT TO SHOE è alterata la famosa locuzione TO BE OR NOT TO BE dell'Amleto di Shakespeare, che è trasformata in una frase provocatoria, ma appunto priva di senso.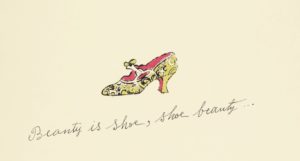 (…) Nella scarpa BEAUTY IS SHOE, SHOE BEAUTY il titolo è ispirato ai versi di John Keats BEAUTY IS TRUTH, TRUTH IS BEAUTY. La frase di Warhol può essere interpretata come innocua e divertente, ma potrebbe anche rivelare come l'artista, utilizzando Keats, sostituisca la figura della donna con un reale feticcio come la scarpa, che irradia glamour, ma evoca altresì trauma e tabù. In tal modo, egli trasmette l'ambivalenza circa il concetto di bellezza comune tra gli Artisti del XX secolo: principio contemporaneamente respinto e ricercato, talvolta descritto come banale, pacchiano, pretenzioso e sentimentale."
Biancamaria Carraro: "Un gioiello al piede: da Warhol a Louboutin"
Ricerca Fotografica e Bibliografica a cura di: Barbara Placidi