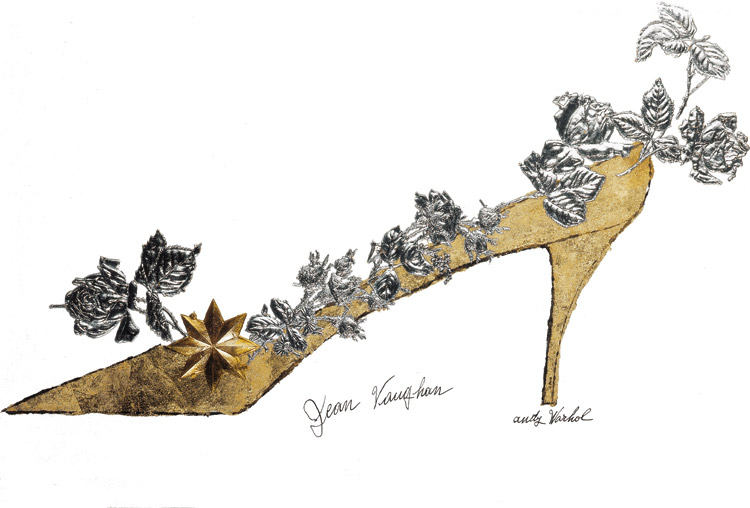 In the 50s, while he was working as an advertising designer, Andy Warhol produced three serigraphic portfolios centered around the idea of the shoe – "Golden Shoes", "À la Recherche du Shoe Perdu" and "Diamond Dust Shoes". His intention was elevating a common item to the status of "art subject". The shoes represented in these portfolios are extremely refined, sometimes dedicated to celebrities of the time (as in "Golden Shoes"), associated to whimsical captions ("À la Recherche du Shoe Perdu") and pictured covered by diamond dust ("Diamond Dust Shoes").
| | |
| --- | --- |
| Andy Warhol, for Dione and Myron | Andy Warhol, Diamon Dust Shoes |
(…) The portfolio titled "À la Recherche du Shoe Perdu", featuring 15 images of women's shoes, was produced for the I. Miller shoe store in New York, and later exposed at the Serendipity Gallery. The title is a play on the Marcel Proust novel "À la recherche du temps perdu", and the content represents the artist's nonchalant, almost brazen, shift from the world of advertising to the world of art.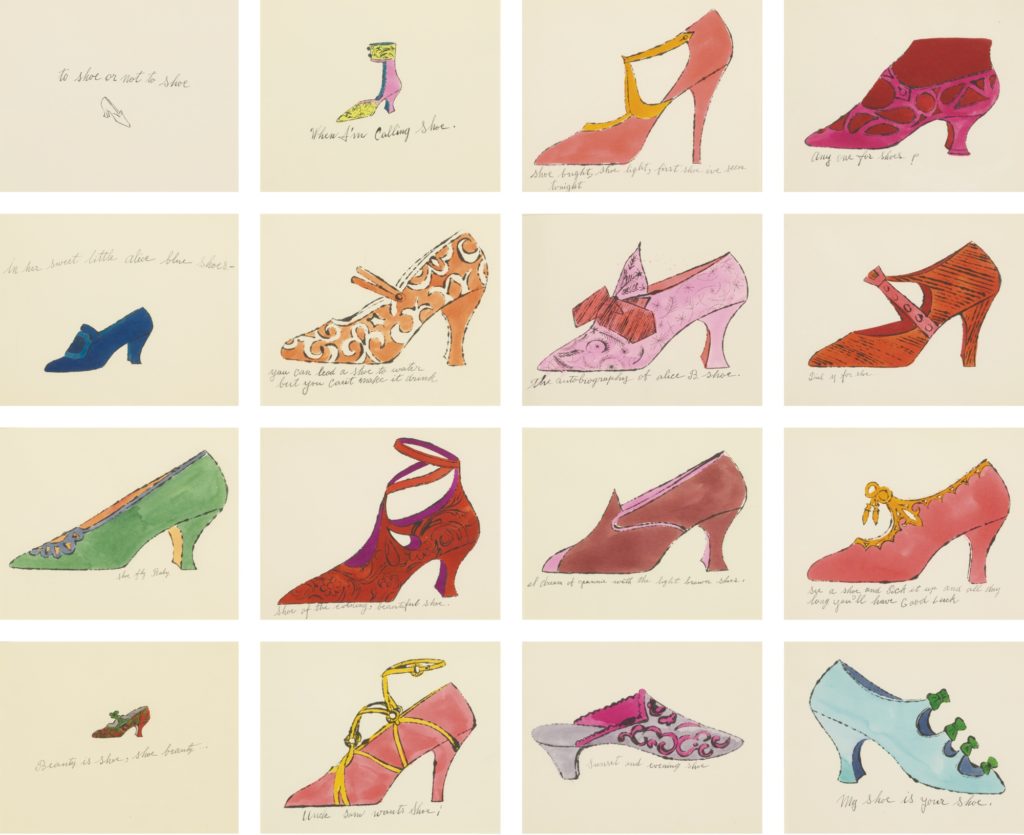 The shoe pictures are matched by captions written by author Ralph Pomeroy and the artist's mother Julia Warhola. These captions are often based on popular sayings or catchphrases, whose concepts are altered by replacing the original subject with the word "shoe". For example, the famous line from William Shakespeare's Hamlet, "To be or not to be", is provocatively changed into a playful (although meaningless) "To shoe or not to shoe".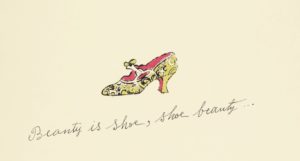 (…) The caption "Beauty is shoe, shoe is beauty" is inspired by John Keats' famous verse "Beauty is truth, truth is beauty". Warhol's wordplay could be seen as harmlessly funny, but could also be a way for the artist to subtly replace a concept with a very material object – a fetish, even – which evokes glamour, but also trauma and taboo. In this way, Warhol expresses ambivalence towards the idea of beauty prevalent among the 20th century artists – a value simultaneously desired and rejected, sometimes described as trivial, tacky, pretentious and cheesy.
Biancamaria Carraro: "Foot Jewelry: from Warhol to Louboutin"
Photographic and Bibliographic research by: Barbara Placidi