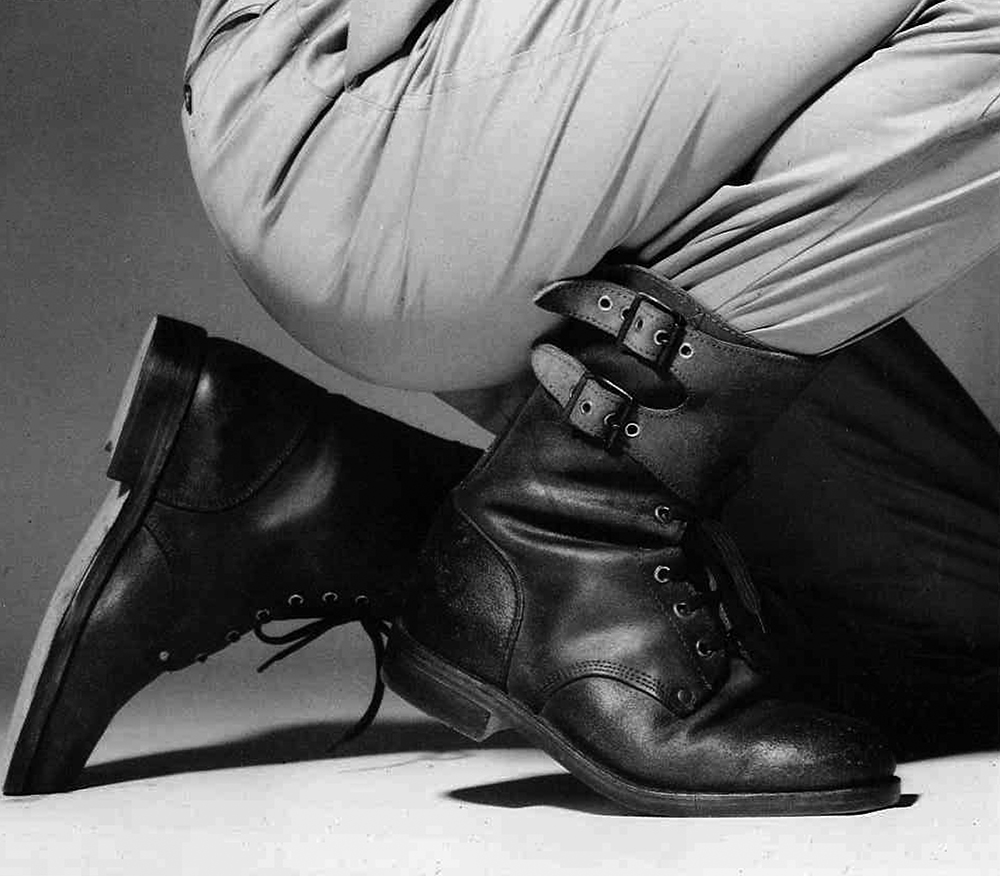 In the days when the stars were more important than the films they appeared in and the arrogant vanity of actresses could impose their wills on the most difficult great producers by screaming scenes and faints on of set, it often happened that shoes designed by great costume  designers were launched with violence and ended up on the heads of the poor directors. No matter the part – it could be the Empress Katherine of Russia or the terrible Messalina – the shoes were always the same because the stars loved to wear shoes which hid their large feet, the only remaining sign of their healthy backwoods origins or because they showed off their legendary legs.
Hollywood loved two kinds of womens'shoes. One was the classic high-heeled pump which always looked good and gave a certain touch of class in spite of its inappropriateness in scenes of romantic elopement or when the heroine was escaping from a criminal. The second was the thin strappy sandal always to be seen on Marylin Monroe, Rita Hayworth, Greta Garbo and Bette Davis. These sandals were meant to indicate that the star had seduction on her mind and thy were ideal for scenes of balls or big parties. The screen beauties rarely forsook these "safe" sandals and when they did, it was a memorable event. Just think of the embroidered satin sandals worn by Greta Garbo in "Wild Orchid" or the jewel studded snakes wound around her bare legs as Mata Hari. Garbo's charm was multiplied when she dared to wear tennis shoes and socks in "The Single Standard" and she was magnificent in the famous Cecil Beaton photograph where her long feet were clad in black rubber galoshes. And by the way, she had smaller feet than Lauren Bacall and Ingrid Bergman.
Other shoes were filling the dreams of the female audiences and, within a few years, were launched on the mass market. The gipsy sandals laced up to the knee worn by Rita Hayworth in the part of Carmen; the cow boy boots which Marylin Monroe wore with such touching femininity in Niagara; the riding boots which immediately demonstrated that Grace Kelly and other elegant and cool blondes were ladies of class and wealth and then the ankle-strap shoes which were a sign of steamy perdition.
(…) Shoes made a stealthy entrance into the world of cinema as a minor element, but they soon demonstrated that they were able to  characterize not only an epoch but also a personality, to built a star, to create in the audience the desire to imitate, the deside to make  themselves more important by wearing the same shoes as their screen idols.
Therefore, it is right to dedicate a rich and ironic exhibition to shoes, an exhibition which can draw a map of the fantastic path of the history of the cinema and its stars.
Natalia Aspesi,  introduction to the catalogue of the exhibition Due passi tra le stelle: 50 anni di Cinema e Teatro
raccontati da oltre 200 paia di "scarpe famose", organised by A.N.C.I. on the occasion of MICAM MODACALZATURA
and  featuring POMPEI shoes – Bologna, September 4 – 7, 1987
Photos by Antonio Guccione