"Although it's virtually impossible to pinpoint a date when changes took place, Christian Dior's first collection would seem to constitute the one big exception. It came out in 1947. The birth of his New Look literally turned women's fashions upside down, marking the end of an era and the beginning of a new one. Old approaches were left behind, and new models dedicated to a society just getting its bearings after years of traumatizing world war were welcomed with open arms, New life, new look – especially in the way we dressed.
February 12, 1947 – Dior's New Look is Born
Dior brought skirts back down to the ankle and wasp waists were cinched in by belts. The image was ultrafeminine (presumably to banish all thoughts of Rosy the Riveter), and shoes reacted by taking on new proportions in relation to the new dress length. Dior also brought back the art of couture, which conceived different forms and achieved stylistic harmony and execution thanks to materials and technologies never before used. A forest of synthetic fabrics sprang up, and there was a run on elasticized materials. Of course, they were extensively used during the war and so were flawless in quantity and performance. Footwear also benefitted from the discovery of new cements and manufacturing techniques. Elaborate design, heels and bottoms mushroomed.
The spike heel came into it own on a very streamlined last, giving birth to the most irrational shoe since medieval times. It was the symbol of elegance – the high-class female of the fifties. Quintessentially feminine detailing sounded the death knell of the tailored suit, which had been the rock-solid foundation of women's wardrobes throughout the austere war years. Born around the '20s with Coco Chanel, who was always ahead of her time, a sport type shoe with an English feel fell out of step with fashion at a certain point. Though anachronistic, it kept right on flying off retailers' shelves. Then came a period unmarked by any tremors to speak of, during which the old and new lived side by side.
In the early sixties shoes become more relaxed in form, heels fatten and toes fill out.
It was the lull before the storm. Around the middle of the sixties, an English stylist by the name of Mary Quant strode onstage, and fashion was tossed into a cocked hat commercially and image wise. Even her London emporium was unlike anything ever seen up to that time. Theatrical lighting and music made a key contribution to the presentation of revolutionary attire and accessories.
| | |
| --- | --- |
| November 1965: Chelsea fashion designer and make-up manufacturer Mary Quant. (Photo by Keystone/Getty Images/VOGUE) | |
Myriad disciples poured in from everywhere, and England was thrust into the international fashion limelight. Quant fashions spread like wildfire, and footwear responded to the shock waves they generated. Tapering forms went out the window, and a very wide base with a very round toe and very stout heels measuring roughly 2 to 3 inches in height clumped onto runways. Wild shoes that were intended to be comfortable but in tune with the times.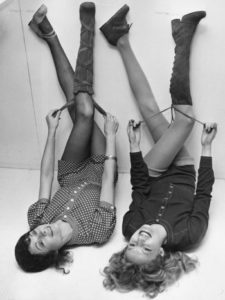 After the midpoint in the seventies, the fashion world was shaken by an earthquake in the form of the miniskirt. It became a symbol of the feminist revolution in progress, and no woman wanted to be without one. The winter of 1968 saw an outbreak of long coats and lower heels, suited to striding rather than mincing – in sync with the fast tempo of daily life. Boots appeared, graced with buckles and laces, that grazed the knee or crept up over it. Other models clung like stocking, were elasticized and were done in all sorts of synthetics.
Unisex reared its ugly – or lovely, depending on your point of view – head, men letting their hair grow down to their shoulders. In the evening, you were as likely to see a woman in a tux as a man. Women wore pants with coloured socks and black men's shoes, and jeans were the reigning common denominator – very common to all sexes. Here again, the universal success of the latter garment shoved the shoe into a new mould. It was an accessory that, to our eyes, seems dinosauric and paradoxical, with its high platform (up to one and a half inches in height) and its stout, piano-leg heel. Both men and women swooped joyfully down on it to make themselves look taller. Clinging, elephant's leg pants, they thought, made them look slimmer. Footwear from that period swarms with an infinite number of intriguing, intelligently conceived details.
An ethnic trend surfaced at the dawn of the seventies, bringing with it American Indian fringes and mocassins as well as checks and little flowers of country girls with their sabots and clogs. A crowd in motley swept Europe in everything from Africa can caftans to Mongolian fur coats. Fashion stayed on this high of chaos and confusion for several years.
| | |
| --- | --- |
| 1971. Foto by David Bailey | 1970. Foto by Barry Lategan |
When things had gone just a bit too far, order was restored by dusting off the classic suit with accompanying kinder, gentler shoes and heels. No spikes, but no more revolutions either, and fashion houses went back to the basic themes of their collections. They often looked back for inspiration, just as they do today, varying models where sport styles and heel heights are the key features. It was the dawn of the marketing and industrial era, when the name of the stylist was a lucky charm guaranteeing elegance. And the past was filtered through the prism of today's eyes".
Quoting: Nella Zanotti; all pictures of the shoes in the slides are by Pier Luigi Omodeo Salè (Pigi) 
"CALZATURA, documenti di fotografia dagli anni '50 agli anni '70" (first edition September, 1990)
Ed. S.E.R. Milano in collaboration with  VeroCuoioItaliano
 Photographic and Bibliographic research by: Barbara Placidi